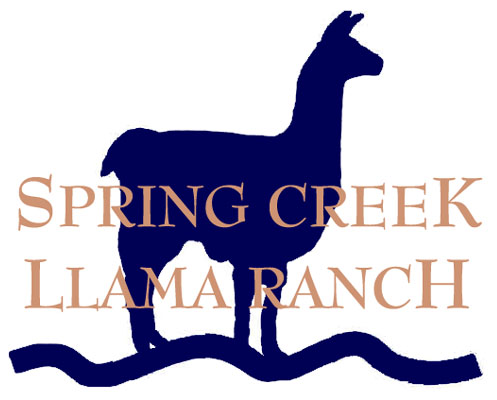 Real Pack Llamas
&
Classic Llama Breeding Stock
---
Welcome to the Spring Creek Llama Ranch Website
We selectively breed for packing llamas.

Our 27th year packing with llamas.

We provide support for
new llama owners.


---
After 27 years in the llama business, we are getting ready to retire. This means we are rounding up a small group of llamas to keep for long pack trips in our retirement. Also staying with us are our retired packers and retired breeding females. They are part of our family and will stay with us until the end.

All the rest of our llamas are for sale. This includes our herd of breeding females. These are girls we selected out of our own production to pair up with our pack stud, Zorro. These are the best of the best in our eyes. They are all in their prime producing years at five and six years old.

Also for sale are a handful of young boys destined to be pack llamas or pack studs and a few young girls with pack llama or breeding potential.

These llamas represent nearly three decades of selecting and breeding for pack llamas.

Please have a look. We are willing to consider all offers. We will be very flexible on price with multiple llama purchases because we like the idea of our llamas being able to stay together with their friends.
---
Check out one of our packing stories!
Magma's Great Adventure - The Story of a Lost Llama and How His Adventure Became Our Own
Just as Dave turned to walk in Magma's direction from our campsite, Magma realized he was loose. He ambled over to the creek, plowed right across, and, once on the other side, ran up the trail. Dave and Douglas followed behind him. Once at the main trail junction, Magma turned and ran at full speed down the trail in the direction of the trailhead.
read more...
(Hit your browser's refresh button to get a different story or click
here
to see the full list.)
---
Read our How-To articles!
Packing Tips - Stay Organized: Keep it Straight
Which pannier is it in? Or where did I put the ____________? Panniers come in sets of two. Mark your panniers with the numbers 1 and 2 in order to keep them straight. Or try tying a piece of cloth or flagging in a different color to each pannier.
read more...
(Hit your browser's refresh button to get a different article or click
here
to see the full list.)
---
---
---
Packing, Articles, and Photos
---
Welcome to the very bottom of the page! All material on this site, including but not limited to, text, images, and site layout and design, is copyright. Copyright © 1983-2012, Spring Creek Llama Ranch. All rights reserved. Nothing may be reproduced in part or full from this site without explicit written permission from
Spring Creek Llama Ranch
. All website related questions can be directed to the
webmaster
or
webmistress
. Questions about llamas, services, or other such things, can be directed to
Spring Creek Llama Ranch
.